Our entire catalogue has some of the biggest discounts in Cabo San Lucas tours – don't thank us, thank the internet. Every price you see is far below retail value and intended to provide an accesible way for customers to cut out the middle man.
Our listings of amazing tours and activities in Cabo San Lucas tours, Mexico is updated monthly and changes seasonally to reflect local offerings. We offer all the classic Cabo San Lucas tours excursions such as Los Cabos Deluxe City Tour, Cabo Lands End Experience (10 Am) and Tequila Tacos Cabo.
Enjoy the best Cabo San Lucas Tours Tours and Activities
For visitors who have never been to Los Cabos before to those who come every year, from outdoor enthusiasts to marathon shoppers.
For visitor who have never been to Los Cabos before to those who came every year. This tour is for you both!
Sunset Cruise Our Sunset tour begin in the Cabo San Lucas Marina, glide around the Arch at Land's End, the Sea Lion Colony and then onward t
Year after year, the California Grey Whale ventures over 6000 miles south following the warmer waters and currents originating out of Alaska
Set out on a voyage of unique proportions as you journey through the Baja desert atop a friendly camel.
oin our expert guides for a Cabo zip line tour, tropical hike, and fun Polaris UTV off-roading excursions.
Want to experience sailing at its finest? Los Cabos is one of the best regions in the world for doing just that.
Step into luxury when you board one of our fully-equipped, French-made sailboats - located just a short walk from the pier.
Have you been dreaming about mountain biking the Baja Peninsula?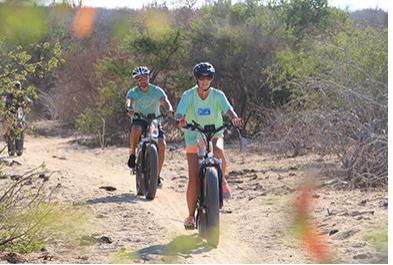 Electric bicycle is an easy to use and perfect for a fun-filled day in the sun.
During this tour you will have the opportunity to learn about the process of organic agriculture and receive a cooking class.
Enjoy the beauty of the Sea of Cortez aboard an extremely capable, new vessel as the sunssets.